MP seeks to ban demonstrations outside abortion clinics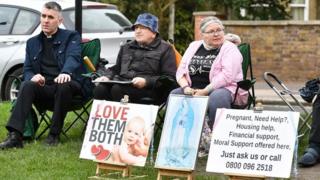 A bill seeking to ban demonstrations outside abortion clinics has been proposed by Labour MP Rupa Huq.
Last year, pro-life protesters lost a legal challenge against the UK's first buffer zone implemented around a clinic in Dr Huq's constituency.
Ealing Council said a 100-metre exclusion zone at the Marie Stopes centre had been put in place after women complained of being intimidated.
The protesters said they were providing help to those visiting the clinic.
The British Pregnancy Advisory Service says following the easing of coronavirus lockdown measures, five clinics across the country have been targeted by protests.
Speaking in the House of Commons, Dr Huq said lockdown "had provided some respite" from protesters but "now they are at it again."
She told MPs that staff at her local clinic reported "being hounded themselves" while women missed appointments or turned up in tears.
She said women did not need "to be met by lifelike medically inaccurate foetus dolls and graphic images, to be handed misleading literature, be called "Mum" and told they'd go to hell".
Although Ealing Council has managed to legally remove anti-abortion protesters Dr Huq says this is "only temporary" and will need reviewing next spring.
She added that the process for implementing and defending the ban in court can cost six figure sums.
"Councils do have enough on their plate without having to find time and resources to implement such bans," she said.
The bill was opposed by Conservative Fiona Bruce who described the proposed law as "dangerous… with potentially far-reaching implications".
"Not only freedom of speech could be threatened, but also freedom of assembly, freedom of conscience, freedom of religion, freedom of expression, the right to peaceably protest, the right to receive information."
She added: "Everyone has the right to free speech within the law – this includes the right to say things which, though lawful, others may find disturbing or upsetting."
MPs voted to approve the bill at the first stage by 213 votes to 47, however unless it secures government support it is unlikely to become law.
A Home Office spokesman said: "The right to protest is a vital part of a democratic society, but it is completely unacceptable that anyone should feel harassed or intimidated, and we are clear we expect the police to take action in such cases.
"There are already powers in place for police and local authorities to restrict harmful protests and the previous home secretary (Sajid Javid) asked the police to work closely with abortion services, to ensure that all those visiting these services are not subjected to harassment or intimation."