Coronavirus: Shops in Scotland to reopen from 29 June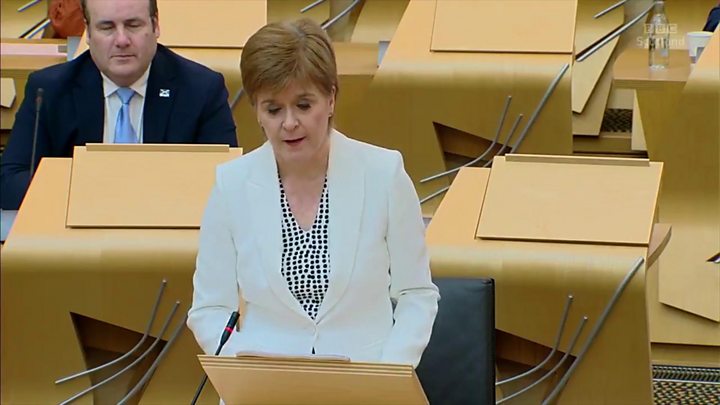 Most shops in Scotland are to reopen from 29 June as part of a further easing of the country's lockdown rules.
The changes will also see anyone who lives on their own – or only with children – to form an "extended group" with one other household from tomorrow.
People will also be able meet outdoors with two other households at the same time rather than just one.
Face coverings are to be made compulsory for everyone using public transport from Monday.
And people who have previously been told to shield during the lockdown because they are at high risk are now able to meet other people outside for the first time.
No decision has yet been made on when pubs, restaurants or beer gardens will be able to reopen.
The announcement by First Minister Nicola Sturgeon means the country has now moved to the second phase of its four-phase "route map" aimed at ending the lockdown while continuing to suppress the virus.
But Scottish Conservative leader Jackson Carlaw called for "much more ambition", saying everything Ms Sturgeon had announced had already happened in England two weeks ago.
And he claimed Ms Sturgeon "simply doesn't understand or comprehend the depth of the economic crisis we're about to go through".
The Scottish government has generally been taking a more cautious approach to opening up the economy again than the UK government has in England, where shops were able to reopen earlier this month.
Ms Sturgeon is concerned that moving too quickly will risk a resurgence of the virus that has already been linked to the deaths of more than 4,000 people in Scotland.
She said she understood the desire of all businesses to reopen quickly, but it was vital that they do so "safely and in a way that is consistent with continued suppression of the virus".
Her announcement means that shops of all sizes will be able to open from 29 June long as they have outdoor entrances and exits – so indoor shopping centres will remain closed except for essential retailers such as supermarkets and pharmacists.
Ms Sturgeon said retailers should now start to put plans in place to ensure that customers and staff are able to keep the required 2m apart.
She added: "Of course, all of us as customers have a role to play. When shops do re-open, I ask everyone to exercise patience, stick to the measures that are in place for your safety, and at all times please respect retail staff who will be asking you to shop in a different way."
David Lonsdale, chief executive Scottish Retail Consortium, said the announcement was a "significant milestone" and provided "much needed clarity on the path ahead".
What can I do and when?
From today (Thursday), people in the shielding group can meet other people outside and take part in outdoor leisure activities such as golf
From tomorrow (Friday), people living alone or with only children can meet one other household indoors
Also from tomorrow, people can meet two other households outside in groups of no more than eight
From Monday 22 June, facemasks will be compulsory on all public transport including taxis
Also from Monday, dentists will be able to open, professional sport can resume behind closed doors and places of worship can reopen for individual prayer
From 29 June, most shops and many other indoor businesses can reopen, but not shopping centres, pubs or restaurants
Read more about what is changing in phase two
Other changes outlined by the first minister include dentists being allowed to reopen for urgent care from Monday, while professional sport will be allowed to resume behind closed doors and places of worship will reopen for individual prayer.
Many indoor workplaces such as factories, laboratories and warehouses will also start to reopen from 29 June, subject to strict physical distancing and hygiene rules.
And outdoor outdoor markets, playgrounds and sports facilities will reopen on the same day, along with some visitor attractions such as zoos – although visitors should still not travel more than five miles from their homes and tickets should be bought in advance.
The wider tourism industry has previously been told to prepare for the possibility of reopening on 15 July.
Figures released this week showed that Scotland's economy shrank by 18.9% in April, slightly lower than the 20.4% recorded for the UK as a whole, while its unemployment rate is now the highest of any country in the UK at 4.6%.
People in Scotland have previously only been able to meet outdoors with residents of one other household, and only in groups of up to eight.
The changes announced by Ms Sturgeon will see the restrictions relaxed slightly, with people now able to meet two other households at the same time – but again, only in groups of no more than eight.
For the first time, these outdoor meetings can include people who in the shielding group who have previously been advised not to go outside.
People will also be able to go inside to use the toilet when meeting in someone else's garden, the first minister added.
And anyone who lives on their own – or only with children under 18 – will be able to form an "extended household group" with one other household.
These extended groups will be able to meet indoors, without physical distancing, and will also be able to stay overnight – but cannot include people who are part of the shielding group.
Ms Sturgeon said: "It will, from tomorrow, allow a grandparent who lives on their own to form a group with another household in their family.
"It will allow a single parent and their children to join with another household for support. And it will allow a non cohabiting couple, where at least one of them lives alone, to be reunited indoors without physical distancing.
"It will, I hope, help to ease some of the isolation which is one of the cruellest consequences of tackling this virus."
Phase 1 (already in place): Virus not yet contained but cases are falling. From 28 May you should be able to meet another household outside in small numbers. Sunbathing is allowed, along with some outdoor activities like golf and fishing. Garden centres and drive-through takeaways can reopen, some outdoor work can resume, and childminding services can begin.
Phase 2 (now being implemented): Virus controlled. You can meet wider group of people outdoors, and some people can form extended household groups. Construction, factories, warehouses and laboratories can resume work, and most shops can reopen – but not indoor shopping centres. Playgrounds and sports courts can reopen, and professional sport can begin again.
Phase 3: Virus suppressed. You can meet people from more than one household indoors. Non-essential offices would reopen, along with gyms, museums, libraries, cinemas, larger shops, pubs, restaurants, hairdressers and dentists. Live events could take place with restricted numbers and physical distancing restrictions. Schools should reopen from 11 August.
Phase 4: Virus no longer a significant threat. University and college campuses can reopen in full, mass gatherings are allowed. All workplaces open and public transport is back at full capacity.
The Scottish government, like its UK counterpart, has been facing calls to reduce the current 2m social distancing rule to make it easier for the hospitality and tourism industries to reopen.
But the first minister said the current guidance will not change "without rigorous consideration and appropriate assurance".
She added: I have asked our advisers to consider whether there are particular settings and circumstances in which, with additional mitigations, it might be possible in future to recommend a distance of 1 or 1.5 metres.
"I hope to also have this advice within two weeks and will report on it then."