Coronavirus: Face masks and coverings to be compulsory in England's shops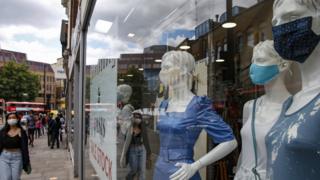 Wearing a face covering in shops and supermarkets in England is to become mandatory from 24 July.
Those who fail to comply with the new rules will face a fine of up to £100, the government is to announce.
The move will bring England into line with Scotland and other major European nations like Spain, Italy and Germany.
Since mid-May, the public have been advised to wear coverings in enclosed public spaces, where they may encounter people they would not usually meet.
It has been compulsory on public transport in England since 15 June.
Children under 11 and those with certain disabilities will be exempt.
Environment Secretary George Eustice told BBC Breakfast the new mandatory rule for face coverings in shops does not apply to retail staff.
"It is about managing the overall risk," he added. "Any type of covering will be sufficient for this purpose."
It follows a reported increase in the use of face coverings by people in England, Scotland and Wales.
More than half of adults surveyed by the Office for National Statistics in the first week of July said they used a covering while outside their home.
Meanwhile, a report requested by the government's chief scientific adviser suggests the UK could see around 120,000 new coronavirus deaths in hospitals during a "reasonable" worst-case scenario this winter.
Labour said ministers' had been "slow and muddled" on face coverings and questioned why the new rules would not come into force for 11 days.
But Mr Eustice said research on the use of face coverings, including advice from the World Health Organization, had been "evolving".
And he added:
The delay between the announcement and the rule coming into force on 24 July "gives people time to prepare" but people will start wearing coverings from today
People are "intelligent and responsible enough" to wear face coverings and the mandatory rule sends "a much stronger signal that people will follow in greater numbers"
Wearing face coverings in shops is an "appropriate mitigation" against the "overall risk" of the coronavirus but the rule would not work in pubs, cafes or restaurants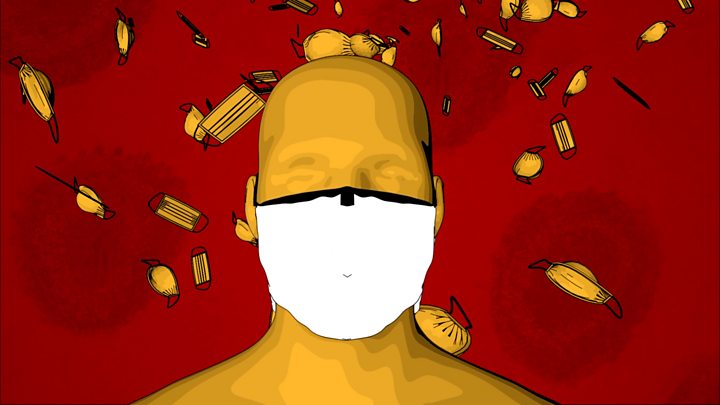 Mr Eustice told BBC Radio 4's Today programme: "With all of our laws there is an element of policing by consent and so we need the public to play their part and abide by the restrictions."
The latest rules for shops will be enforced by the police, with anyone disregarding them at risk of a fine of up to £100. This will be reduced to £50 if people pay within 14 days.
While shop workers will be encouraged to prompt customers to comply, they will not be expected to enforce the rules, allaying unions' concerns about their involvement.
But Ken Marsh of the Metropolitan Police Federation suggested enforcing the new rule could strain the relationship between police officers and the general public.
In Scotland, the use of coverings in shops has been mandatory since 10 July. Shoppers in Wales and Northern Ireland are not currently required to wear them, although both nations have said this will be kept under review.
Police did not issue a single fine across Scotland over the first weekend of compulsory face coverings.
Mayor of London Sadiq Khan told Today that, on public transport in London, some 18,500 people have been stopped from travelling for not wearing a face covering since 15 June with 59 fines issued.
Will customers be happy?
Face coverings steam up your glasses, they're uncomfortable, they infringe on personal freedom, say BBC Radio 5 Live Breakfast listeners – and that's before the matter of enforcement.
Andy, in Manchester, says the discomfort means he's less likely to go to the shops and now worries shopping must carry a higher risk than he thought. He doubts the increase in footfall that shops need will follow.
Another listener with a long list of questions pleads for more guidance. Can we keep them in our pocket? How often should we replace them? Are disposable ones better?
But there's reassurance from Scotland, where face coverings have been mandatory in shops since Friday.
Pamela, who runs a clothes shop in East Kilbride, says most of her customers have been happy to wear one – only one refused because they didn't like it. She says it's a habit you need to get into and will be giving uncovered customers gentle reminders.
Roz, a nurse in nearby Glasgow, says if she can wear a mask for her 13-hour shifts, it's not a big issue to wear one for half an hour around the shops – "you have to think of the greater good."
Boris Johnson signalled a shift in the government's position on Friday when he spoke of the need for a stricter approach in confined setting.
But Cabinet Office minister Michael Gove downplayed the suggestion of any immediate legal change on Sunday.
Do you work in a shop? How are you preparing for the new rules? Email: haveyoursay@bbc.co.uk.
'Slow and muddled'
Labour said the mixed messages demonstrated the government's indecision during the pandemic, and ministers had to explain the "further delay".
"The government has been slow and muddled again," shadow health secretary Jonathan Ashworth said.
He added that "many will ask why yet again have ministers been slow in making a decision in this pandemic".
A No 10 spokesman said: "There is growing evidence that wearing a face covering in an enclosed space helps protect individuals and those around them from coronavirus.
"The prime minister has been clear that people should be wearing face coverings in shops and we will make this mandatory from 24 July."
Unions and businesses have said the new guidance must be "clear and detailed" to protect staff and customers.
While welcoming clarity over the issue, shop workers union Usdaw said coverings could not be a substitute for strict hygiene controls and social distancing measures, such as limiting the number of people allowed in a store at any one time.
The British Retail Consortium said it hoped the announcement "will make shoppers feel even more confident about returning to the High Street".
Scarves or other textile items that can be used to continually cover the nose and mouth without having to be held in place by hand are considered adequate in non-medical settings.
Downing Street said it would keep the guidance on face coverings in other settings, such as offices, under review.